The 6th of February is set aside every year to mark the International Day of Zero Tolerance to Female Genital Mutilation, globally. The day, which was declared a commemorative day by the United Nations, aims to combat and raise awareness about Female Genital mutilation (FGM).
FGM is recognized internationally as a violation of the human rights of girls and women. It reflects deep-rooted inequality between the sexes, and constitutes an extreme form of discrimination against women. The practice also violates a person's rights to health, security and physical integrity, the right to be free from torture and cruel, inhuman or degrading treatment, and the right to life when the procedure results in death.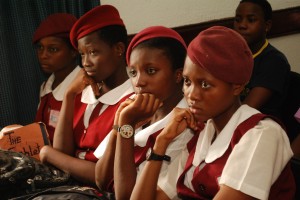 In Nigeria, although section 34(1) (a) of the 1999 Constitution of the Federal Republic of Nigeria states that "no person shall be subjected to torture or inhuman or degrading treatment", and the ratification of the Maputo Protocol in 2005, a 2008 demographic survey still found that 30% of all Nigerian women have been subjected to FGM.
Action Health Incorporated joined the rest of the world to commemorate the day with a programme held in its multi-purpose hall with 250 young people from secondary schools across Lagos State in attendance.
This year's programme themed, "Ending Female Genital Mutilation Takes a Village," featured various activities including: A short documentary on FGM in Ethiopia, games and a lecture presentation. The activities of the day availed participants an opportunity to learn about FGM and its effects on the lives of the female folks.
Speaking to the participants, Mrs. Oyefunso Orenuga, former Executive Director, Inter African Committee who gave the lecture defined Female Genital Mutilation as, "all procedures that involve total or partial removal of external female genital or other injury to the female organs for non-medical reasons." She described the four main types of FGM and used an anatomical model of the female genitalia to further illustrate each of these four FGM classifications/ types.
According to WHO, FGM has no health benefits, and it harms girls and women in many ways. It involves removing and damaging healthy and normal female genital tissue, and interferes with the natural functions of girls' and women's bodies. Immediate complications can include severe pain, shock, haemorrhage (bleeding), tetanus or sepsis (bacterial infection), urine retention, open sores in the genital region and injury to nearby genital tissue. Long-term consequences can include recurrent bladder and urinary tract infections, cysts, infertility, an increased risk of childbirth complications and newborn deaths.
The causes of female genital mutilation include a mix of cultural, religious and social factors within families and communities. Some of these include beliefs that FGM is considered a necessary part of raising a girl properly, and a way to prepare her for adulthood and marriage as well as the beliefs about what is considered proper sexual behaviour, linking procedures to premarital virginity and marital fidelity. FGM is also associated with some cultural ideals of femininity and modesty, which include the notion that girls are "clean" and "beautiful" after removal of body parts that are considered "male" or "unclean."
At the end of the presentation, the participants had the opportunity to ask questions and discuss ways that young people could work together as advocates for ending the practice.