Significant numbers of Nigerian adolescent girls are burdened with unwanted pregnancy, unsafe abortion complications and sexually transmitted infections, including high levels of new HIV infections. About 50% of girls in the country are already married by age 20. Although there are regional variations in the nature of sexual and reproductive (SRH) problems they face, the magnitude of the problem is greater in Northern Nigeria, where hundreds of thousands of young girls, due to various reasons especially the lower age at marriage, lower access to modern family planning methods, as well as pre- and post-natal care, are exposed to higher levels of illness and death as a result of pregnancy and childbearing. Pregnancy and childbearing also affect school retention rates adversely, with many girls discontinuing schooling when they get married.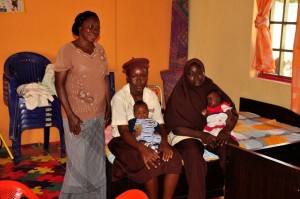 With funding support from the United Nations Population Fund (UNFPA), Action Health Incorporated (AHI) is currently working in collaboration with community leaders and the Ministries of Health, Education and Women Affairs in the states of Adamawa and Kaduna to address these challenges.
Over the period of 2013, a series of advocacy activities were conducted to discuss and find ways to remove the barriers to retaining girls in school. Some District Heads, village heads and youth leaders in Jimeta in Yola North and Kaduna North local government areas (LGAs) acknowledged that there are a variety of reasons why men give out their daughters in marriage at an early age; reasons that included the need to get the bride price from the prospective husbands, to parents not wanting their girls to engage in pre-marital sex once they reach puberty. Once they get married, some husbands also do not permit their wives to continue schooling because they expect them to stay at home to take care of the children.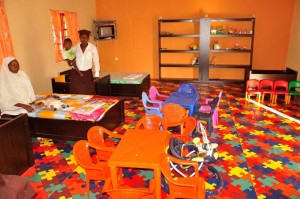 Following agreements with the community leaders, outreach activities were undertaken to seek the support of parents, guardians and husbands of the young girls, who were interested in returning to school. By the end of the first school term in 2013, AHI had worked with 100 married girls and their families to surmount some of the barriers to reenrollment in school including a lot of paperwork and navigating the required formalities. With the support of the State's Ministry of Education, Government Day Secondary School, Old GRA, Yola and Government Girls Secondary School, Unguwan Sarki, Kaduna were designated as schools to enroll the young mothers. To address some of the challenges of retention for adolescent girls, sanitation facilities were provided for the schools and crèches established within the premises so the young mothers have a place to leave their babies while they attend classes. Referral mechanisms have also been set up with the youth-friendly clinics established as part of the project in the Primary Health Centres in Ajiya, Yola and Unguwan Shanu, Kaduna to increase the girls' access to sexual and reproductive health information and services including family planning.
Noteworthy is the decision made by the Ministry of Education in Adamawa State to waive school fees for these girls in the state, and the promise of support to the girls throughout their years of study. In addition, the Ministries of Women Affairs in both project states indicated their commitment to continuing support for the initiative to ensure sustainability.