November 9th 2013, was the grand finale of the annual Teenage Festival of Life, popularly known as TFL by young people in the public secondary schools around Lagos. Action Health Incorporated (AHI) has organized TFL over the last 20 years and it has grown to become a keenly anticipated event that celebrates the creativity of young people while providing a platform to speak about the sexuality issues, and other challenges youth face in Nigeria today. Based on the selected theme, young people share their perspec- tives using the medium of the creative arts — drama, poetry, music and essay writing. The theme for TFL 2013 was "The Media and Promotion of Youth Sexual and Reproductive Health," and it explored issues on access, opportunities, challenges and media safety.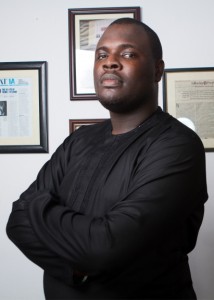 This year's host was young and ebullient Chude Jideonwo, an award-winning journalist, leading expert on new/social media and youth lifestyles, and a media entrepreneur. Chude is the Founder and Managing Partner of Red Media Group. He is also a writer and public speaker known for a string of nationally viral speeches and for motivating young people around the world to take action on their own behalf. His life and work has centered on creating opportunities for young Nigerians and using the media as a proactive tool for positive social action. In line with the 2013 theme on the media, AHI was excited to have him volunteer to serve as a facilitator during the preparatory stages and then as host at the grand finale.
Chude talked about the types of media accessible to young people today: TV, radio, magazines, Facebook, Twitter, etc as  well  as  mobile  applications  like WhatsApp and  2go.  He highlighted how  the  media  continues  to  be  the most formidable tool that young people have today to exercise their power as catalysts for change.  He also opened up the stage for questions from young people in the audience.
Remarks were made by Dr. Olubunmi Odiakosa, Chairperson of the AHI Board of Trustees, and a goodwill message from the Honorable Commissioner, Lagos State Ministry of Education delivered on her behalf by Mrs. Sewanu Amosu, Director Special Programmes. In her message, the Commissioner congratulated the young people, present at the event saying that participation on the TFL platform had contributed significantly to giving them a voice to speak up about the challenges they struggle with the adults and policy makers who attend the programme as well as serving as an avenue to learn from the facilitators about how to address those issues.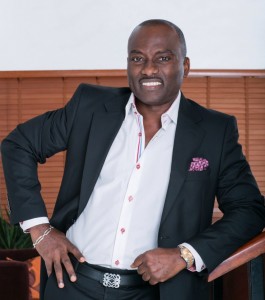 Following the formal speeches, Chief Dayo Adeneye, TFL's longstanding host and supporter for almost a decade, was welcomed to the stage amid cheers and resounding applause. The celebrity showbiz personality, popularly known as D1, of the famous music label, Kennis Music and Primetime Entertainment Africa, is a widely respected entertainment czar who has contributed significantly to reviving the music industry and placing Nigeria on the global music scene.
He thanked the audience for the warm welcome and immediately proceeded to present his motivational piece on the "5 important things young people need to succeed" (link):
An education
A game plan
A positive attitude
Preparation to work smart
Careful selection of friends
Five young people who have established themselves as rising media experts and entrepreneurs were also featured in a panel discussion alongside the three winners of the Essay writing category in the TFL competition. The media experts were: Ms. Lola Shifatu, an on-air personality and presenter on TVC; Stephen Oguntoyinbo; Shola Edu, a blogger; Dayo Israel, a preacher and media entrepreneur; and Samuel Isichei, the CEO of Mahomet Centre.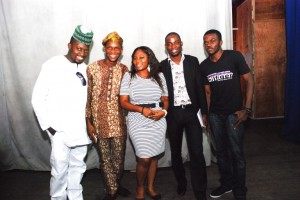 Mr. Dayo Israel is an astute motivational speaker and adviser to leaders, business executives, and politicians. He also has twelve years of work experience in international development with the United Nations. Mr. Israel spoke on 'media accessibility,' saying that many media platforms such as Facebook and smartphone applications are available to young people. He mentioned the many Facebook accounts and BlackBerry phones with thousands of contacts he has, and how he has used these for marketing and earning money. He even shared that he earns about 100 pounds on every BlackBerry broadcast he sends.
Mr. Shola Edu is an animator, a graphic designer and a blogger. He is the CEO of Deluxe Creations Studio. Mr. Edu shared his experience of how he learnt about animations and blogging via the internet, using YouTube. He explained that one does not need a computer to access these platforms, as they are very much available on smartphones and even java phones.
Samuel Isichei is a British Council/World Bank development knowledge facilitator, and he enlightened the audience on using podcasts. He explained that podcasting is done when mobile phones are used to record MP3s. He added that he has used podcasts to promote his own course creatively. He said that young people could create their own news, record it and send it to TV stations or even publish it on the internet.
Stephen Oguntoyinbo is the CEO of Top Village International and a Resource facilitator. He was also a Peer Educator at AHI during his high school days. Stephen informed young people about the challenges and dangers of using the social media wrongly. He advised young people not to post just any picture on Facebook, especially the ones that can tarnish their identity. He also told them to be mindful of the kind of information they access and provide on the various social media platforms available today. He spoke about the numerous opportunities social media provides, like taking courses online, searching for schools abroad and various self-development prospects that abound all over the world.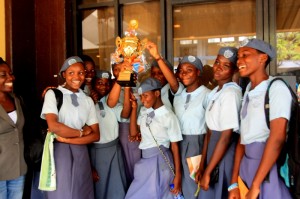 Following the discussion segment, there were three presentations each in drama, music, and poetry. Long before the presentations at the grand finale, script-writing workshops were held for 291 secondary schools from the six Education Districts in Lagos State on the event's theme and concept. After three months, the participating schools submitted their scripts, which were scored and selected for presentations following a series of selection processes. At the end of the entertaining and educating presentations, the contestants who won the first through third positions were awarded trophies, while those in the fourth to sixth positions were presented with recognition plaques.
Winners List

Tomia Comprehensive Senior Secondary School, Alagbado
Angus Memorial Senior High School
Jagunmolu Girls' Senior Grammar School, Bariga
Girls Senior High School, Agege
Ikosi Senior High School, Ketu
Lagos State Civil Service Junior Model College, Igbogbo
Ikosi Senior High School, Ketu
Arch Deacon Adelaja Senior High School, Bariga
Tomia Senior Secondary School, Alagbado
Egan Senior Grammar School, Egan
Ideal Girls' Senior High School, Surulere
Idi-Araba Senior High School, Mushin
The winning schools were no doubt excited as the audience erupted in thundering applause and chanted as the results were announced. The best male and female performers, were also awarded prizes. The coordinating teachers too were not left out — they received appreciation handshakes and small gift items for their selfless commitment and support for the students as they prepared for participation in the various competition stages.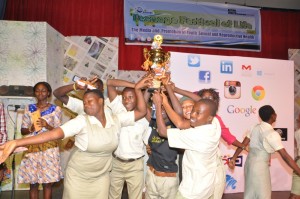 Other high points were performances from the popular and vibrant artiste Omolayo Wale — one of the well-loved contestants in the recently concluded MTN Project Fame. He mesmerized the crowd at TFL with his warm personality and beautiful voice as he performed a solo ballet dance to a soft and moving song by Celine Dion. During his second appearance on stage, he performed his own solo (composed with the theme of TFL 2013 as further edutainment for the youth audience) and a 'WhizKid' song called 'Omo Jaiye Jaiye' to the thrill of the audience. His 'Omo Jaiye Jaiye' performance was supported with hip-pop dance from the 'SLYD' dance group. In all, almost 2,000 young people and adults from around Lagos attended the event. There were also representatives from six media houses, including TV and radio stations.
The event ended with a vote of thanks to schools that submitted entries for the various competition categories, youth members on the TFL Planning Committee and everyone one in attendance at the grand finale. As it's always the case, many folks are already eagerly looking forward to an even better and more star-studded TFL 2014.