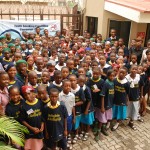 February 10 2014 was the kick-off day at Action Health Incorporated for the 3-day training on 'Youth Smoking Prevention' for 107 Anti-Smoking Ambassadors and 12 coordinating teachers drawn from 12 schools in the Surulere and Somolu Local Government Areas.
The training provided participants the opportunity to learn the facts about cigarette smoking, and its challenges among young people in Nigeria. The sessions were not just limited to providing information on the health risks associated with smoking, but there were also skills building sessions on making healthy choices/decisions about cigarette smoking, communication and how to resist peer pressure.
Evaluation conducted on the last day of the training showed a remarkable improvement in the knowledge of the anti-smoking ambassadors, compared to the results of their performance in the pre-test taken before the commencement of the training.