Can you tell us about your educational and professional background?
I was born in Kano where I began schooling.  But due to the religious crisis at the time, we had to move to Lagos where I had to start all over. I attended Providence Nursery and Primary school at Iju and my secondary school education at Dansol High School Agindingbi, Ogba from where I proceeded to Covenant University. I am hoping to have my Masters degree soon in business of Film.
How did you get into movie production?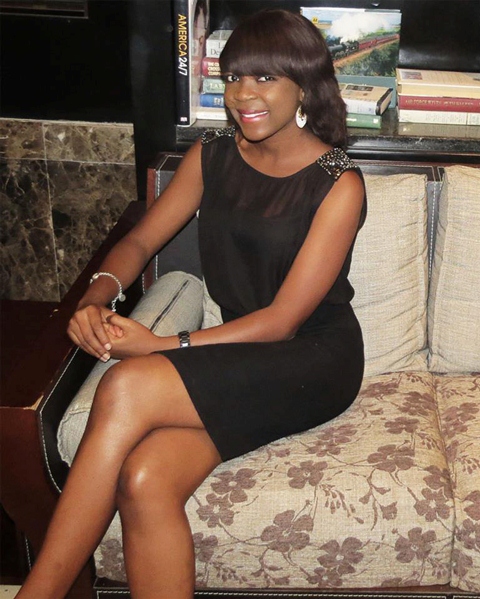 Wow! That's a very deep question for me because I never planned to go into film production. When I was in secondary school, I was already doing things in the humanitarian field and I was sure I wanted to run my own NGO and become a representative of the United Nations Children Fund or World Health Organization.
But it's true when they tell you that God's plans can be way different from yours. I had a nasty accident before I went to university, which affected my face and required me to go through a number of surgeries. At the end of the day, I came out with some facial scars and had to develop the fringe hairstyle for my comfort which I still wear till today.
When I resumed at the university, I hated taking pictures. It was a heartbreaking moment for me. It was so bad that I almost dropped out because of people's stares and wondering what people were thinking. But by my second year, I started to realize that the scars were healing and becoming something I could really not care about. I began to take pictures with my roommates' webcam to record my scar healing process. I got so addicted to this and this was how it all started.
I started editing the pictures with Picasa, and then I realized Picasa had movie compilation so I would take my pictures and that of my roommates, and do picture slides with some background music. I got tired of Picasa and moved to Windows Movie Maker. I started recording clips of myself singing and talking; I would invite my friends into my videos. Somehow, people I didn't know in school got these clips and would say, "I saw your video!" and I realized that I had a creative side to me that I was enjoying.
From then on, I knew I wanted to make videos. That was how I started making video adverts for school programmes etc. I also did a short film for my final year project, which earned me an A, and from then on, I started to develop myself. I write, produce, direct and edit with any version of Adobe Premiere Pro and Final Cut. This is industry standard anywhere in the world. My passion for film is indescribable because it sprung out of a painful personal journey.
What built your interest in directing and setting up your own firm?
My greatest fear in life is to be ordinary and I have realized that the people we see as extraordinary people have one thing in common; they take risks and do things unconventionally. They make decisions most people may be scared or indecisive about.
I worked on Nigeria's Got Talent show season 1 and I worked at Immersion advertising agency at Lekki. But I resigned my job in less than seven months, because I realized working in an office gives you a stereotyped kind of experience because you do the same thing over and over, everyday! I got bored. I just couldn't bring myself to do it. I told myself that if I died, this office will continue running, the show won't stop because of me. In fact some people in the office will not be able to make it to my burial because of work. What kind of life is that?
So, I decided to make my own mistakes, run my own show by starting small.  Thank God for the media world, you can grow and make it with great ideas. It's not like medicine or law, where you must go through years of experience before you are qualified. I decided that even if it's only N3,000 I can make to buy myself my personal toiletries every month, I prefer it to living someone else's dreams for the rest of my life.
What prompted you to create the film invisible girl? Could you give us a synopsis of the film?
Invisible girl was a project born out of my passion for young girls. It was a project under Lowladee.com my personal inspirational blog. I usually have a different theme every month and the month I shot the film Invisible Girl; I decided to reach out to young girls that have been sexually abused/assaulted. In that same month, I was also able to get a Ghanaian woman to share her true story of abuse by her own father on my blog. It was truly heart breaking.
Invisible Girl centers on a young bright student who wanted to be like Margaret Thatcher but her dreams were almost cut short because her uncle violently raped her. She hid the incident from her mom and friends and this began to affect her educational performance. A concerned teacher called her and discussed on a personal note, and the girl, was able to confide in her teacher. That marked the beginning of her healing – when she OPENED UP. The point of the film is that Life happens! But when it happens –DO NOT KEEP QUIET. If you keep quiet, you start dying on the inside and you are giving the person who assaulted you victory. YOU MUST WIN.
What are the challenges young people face who want to go into your field?
Two challenges that I feel young people today face are the media and peer pressure. Yes I said media! The media is one of the greatest impressions on a teenager's life or any young person. If we turn on the T.V right now, you would see the junk showing on most stations -music videos that are vulgar, sassy and featuring many nude people.
The media has successfully transferred a very degrading culture and mindset to our youths. For example, the young girl in secondary school who exposes her breasts and looks like a 30-year-old woman because of heavy makeup. But they think it's the in-thing. The media feeds young people with too much hard information, there is no content addressing important issues peculiar to them.
A lot of young people live like adults, no more childhood or teenage years. And then peer pressure is something that has existed since the beginning of time. It depends on that child to disregard negative peer pressure. The only way out of peer pressure is to have positive friends; that way, the only pressure existing will be a healthy one.
A challenge that young people who want to work in the media world face is the lack of knowledge about what the media really is. The media is so broad. Most young people think of music or TV as the fastest way to stardom. No, the media is a business; it's a career that has many paths. For instance, publishing is an aspect of the media that can be explored. So, young people have to understand what it is first they want to do then they will know how to approach it and succeed in it.
I think this challenge is largely a fault of the school curriculum. The only kind of media studies we have here is mass communication and to me, it doesn't cover all aspects. I even prefer the name Media Science instead. Seriously, they give us outdated stuff.
What do you feel can be done to address these challenges? 
Someday, very soon, when I have some level of influence in society, I will begin to advocate for a proper curriculum for Media Studies in Nigeria. There are so many branches that come under Media, you have to separate them.  You can't successfully teach every aspect of the media in only four years under the name of mass communication. I disagree.
What is your advice for young persons who want to start their own PR firm or go into movie production?
PR is different from film. Please you need to bag the degrees you can bag, and you need to work to gain experience in PR firms. You need to be good at what you do. For movie production, thank God there are film schools abroad. Go to a film school! Learning stages must never be skipped. If you cannot afford a film school then start making short films. You learn from there. You can have a job on the side as you are learning; you can save up and go to film school.
I don't just do film production. In fact, I do other stuff. The longest film I have made is almost 30 minutes. I am not rushing to make a feature film yet because I am still learning. You must give yourself time to learn. Don't ever skip learning and don't ever stop learning. But when you have gotten to a particular stage in your learning process, you just know that you can start and you will not be afraid.