By Rhoda Robinson, HACEY's Health Initiative
Over the years, Gender-Based Violence (GBV) has moved from being seen as a private matter and become positioned as a public health issue and a human right concern. With the majority of victims being female, it underscores the existing gender unequality and skewed power relations in society.  Development and progress is impeded when women who make up a large percentage of the underpaid workforce, are subjected to further violence and abuse.
GBV is a problem that affects individuals, families and communities and occurs in every country. It refers to any act that has a negative impact on the physical, social and psychological health of a person as a result of the person's sex.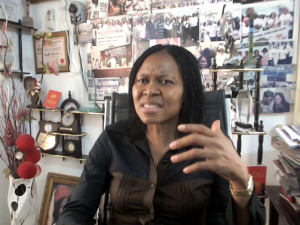 According to the Gender in Nigeria Report 2012, up to one-third of Nigerian women report that they have been subjected to some form of violence; one in five has experienced physical violence. Newspapers often feature stories on gender-based violence or violence against women. This increase in awareness has informed actions by civil society and government to curb this destructive trend.
Violence and abuse against girls has become a huge threat today. These include cases of rape, forced marriages, child-workers/hawkers. The case of girls is more difficult to address as more times than not, the perpetrator is a caregiver or has the permission of the girl's caregiver.  These cases are more common among girls who live in impoverished slum communities where other factors such as education, poverty and basic support systems are lacking. More girls suffer in silence everyday, some suffering irreparable damage to their body and psyche because of the slow response to ending violence against girls.
In responding to this, the Hands Up for HER Initiative launched the STOPVAG – Stop Violence and Abuse of Girls campaign in 2013 to bring public notice to the causes and consequences of violence against girls; the using social media.
The STOPVAG campaign is online and hosts individuals and organizations in the fields of human and child rights, and engages online communities in discussing, developing and proffering solutions that individuals and organizations can implement to protect the rights and lives of girls in Africa.
The discussions, which focus on identifying the various forms of abuse, effects of abuse and how individuals, communities, organizations, and governments can stop violence and abuse against the girl child, are held quarterly. The discussion is carried out using the twitter handle @handsup4herand the hash tag #StopVAG on social media platforms such as Facebook, twitter etc.
In 2013, three editions of the online discussion/forum were hosted reaching over 50,000 participants across the world. Ambassadors of the Hands Up for HER Campaign such as Dr. Joe Oke-Odumakin, Grace Edwin-Okon, and Maureen Iyasele, served as hosts of the forum where they discussed their views and work on gender equality. They also responded to the questions and comments of the participants.
The second online forum held in April 2013 featured the former first lady of Kwara State, Mrs. Toyin Saraki. The online forum aims to discuss and bring to light issues around violence against girls and women in the society; it also aims to engage all stakeholders as watchdogs in their respective communities. In all, the forum uses social media as a tool for advocacy, education and community mobilization against GBV.
Advocacy, Education, and community mobilization have been identified by the UN Secretary General's study on Eliminating Violence Against Women, as promising practices that can eliminate the occurrence of violence against women and girls. It is our goal to ensure that the voices of the young victims and survivors of abuse are heard and they have a platform to speak.
During the 2014 first quarter edition of the #StopVAG campaign held on the 11th of March 2014, the campaign addressed the issue of "Child Sexual Abuse" with Dr. Joe Okei-odumakin shedding more light on the issue in Nigeria.
In her interview, Dr. Okei-Odumakin emphasized the need for individuals, civil society and organisations as well as governments to work together to protect the girl child. She also emphasized the importance of the Nigerian Child Rights Act as a tool for addressing child sexual abuse. She pushed for stronger adherence to and improved implementation of the law, and she called on everyone to report abuse when noticed so that more children can be rescued from harmful situations.
A short version of the interview can be found on the web at www.handsupforher.org. The full video interview with Dr. Joe Okei-odumakin can be found at www.youtube.com/handsupforher/videos