On Thursday, October 10th, 2013, HACEY's Health Initiative hosted the 2nd International Day of the Girl Child Event in Nigeria held at the main auditorium of the University of Lagos. The program started with an opening remark given by Mr Isaiah Owolabi the Project Director of HACEY's Health Initiative. He spoke on the objectives of the Hands up for HER initiative and her activities in the 24 African countries it currently runs in. He said educating the girl child means 'empowerment' and more effort should be put into it.
Speakers at the event were: Dr. Olufemi Olaleye, MD/ CEO of Optimal Healthcare Foundation; Mrs. Ketimu Musa, Deputy Director, Lagos State Ministry of Education; Dr Y. O. Duze, Action Health Incorporated; Dr. Joe Okei-Odumakin, President, Women Arise for Change Initiative; and Ms. Yemisi Ransome-Kuti, Founder, Nigeria Network of Non Governmental Organization.
Dr. Olufemi Olaleye, gave his address on cervical cancer 'a disease that is preventable'. He said cervical cancer is a commonly talked about terminal disease, and that 25 people die daily from it. He spoke on cancer risk factors, prevention and management, and that every single cell with cellular origin can predispose to cancer. He said sexual history is a risk factor and that multiple sexual partner is a 'predisposing risk factor'. In his address, Dr Olufemi talked about the causative factor – HPV as a virus that causes cervical cancer. He emphasised the need for screening tests for early prevention. During screening, the cervix is examined for abnormal cells. He also emphasised the need for a vaccine for female children. He said 'Awareness and community involvement is key in our fight against high incidence of cervical cancer in Nigeria and Africa in general'.
Mrs. Ketimu Musa, the Deputy Director of Education gave the keynote address on behalf of the Lagos State Commissioner of Education. She began the address by stating that the education and empowerment of the girl child is very important. Education is important as a process of thinking and self discovery. It is an investment in 'human capital' and helps in character building. She shared that a girl child questions authority only when educated. A good education makes a girl child strong and enables her look after herself. She concluded that good girl child education is a key to development and should be prioritized at the family, community and national level.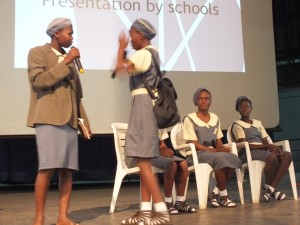 Dr Y. O. Duze, a Medical Doctor from Action Health Incorporated spoke on behalf of the organization. As a representative of Dr Uwem Esiet, she noted that education is essential to the total wellbeing of every girl child. She reminded her audience that 2 of the 8 Millennium Development Goals are on education. Dr Duze concluded her presentation by stating that education is not a luxury but a right of the girl child.
Dr Joe Okei-Odumakin, in her presentation shared her involvement in creating awareness about the need to educate the girl child; she said a girl child deserves a good education. She said that discrimination especially for children with special needs e.g. autistic children should be addressed and the children catered for. In her address, she said the girl child empowerment is critical for a nation's growth. Girls should be involved in decision making and be empowered, and to ensure the mandate that every girl child is educated. She also stressed the importance of the health of a girl and encouraged everyone to work towards this – 'what we do for ourselves dies with us but what we do for the world stays'.
Ms. Yemisi Ransome-Kuti, the Founder, Nigeria Network of Non Governmental Organizations spoke on the need for students to challenge themselves and learn how to think and come up with solutions for problems. She said the brain counts even more than physical capacity and most barriers for students achieving results are psychological. She urged students to become people with integrity so they can be proud of who they are. She said religion is key and that knowledge about the religion one chooses helps us understand things more.
Mr. Theophilus Aboderin, President of the Carrington Youth Fellowship Initiative (CYFI) Alumni, spoke on the CYFI program. He shared that the CYFI program is a youth-based initiative created by the United States consulate in Nigeria in 2011. The aim of the program is bringing and developing youth with exceptional skills together to make social change in their communities. He said the applications for 2014 cycle will be announced soon and ended by encouraging young change-makers to apply and share their vision through CYFI (www.cyfinigeria.org).
The Ambassadors of 'Hands up for HER' present – Mrs Florence Karl Ogwo, Ms Bukola Awoyemi, and Ms Omotola Fawunmi were introduced. Hands up for HER ambassador Ms. Bukola Awoyemi gave her goodwill message reminding young girls to always remember they can be who they want to be. Goodwill messages were also given in absentia by the World Association of Girls Guide and Girls Scout, and by the President, African Citizens Development Foundation.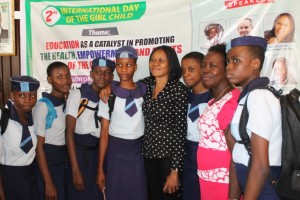 Ms. Rhoda Robinson in her closing remarks thanked the speakers, representatives of organizations, schools and individuals present for being a part of the program. She emphasized the importance of the girl child in the family and urged everyone to keep fighting for her rights.
Presentations given during the event are as follows:
Fortune school – a play on the 'voice of the girl child'
Landmark College – a play on 'the girl child'
Babbington Macaulay College – a play and song on the 'Rights of the Girl Child'
Lekan Owonikoko – song and poem for the girl child
The event was attended by students from 42 secondary Schools across Lagos state, representatives from over 15 media organizations including radio and TV stations, newspaper and magazines, and online media. Representatives from over 50 civil societies and non-governmental organizations were presented. In summary, one thousand two hundred and seventy seven (1277) registered individuals were present at the event.
Special appreciation to Nestle plc for brand and product support; GSK for resource support, TV and Radio Continental for media support, University of Lagos, US Consulate Carrington Youth Fellowship Initiative, Unilag Anti-AIDS and EnactUs clubs.
For more details on the Hands Up for HER Campaign: